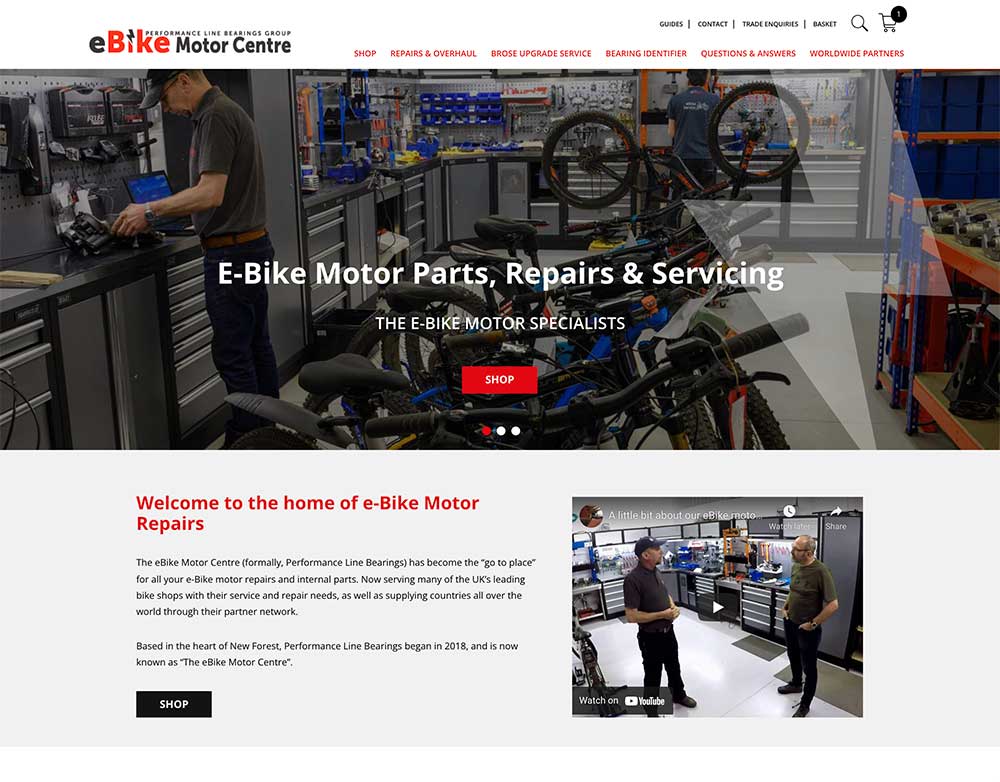 eBike Motor Centre – Parts, Repairs & Servicing
eCommerce and Branding
The eBike Motor Centre illustrates how a poorly performing and unengaging website can be transformed into a professional looking website that is generating increased sales and has significantly raised the company profile.
Designing a new brand identity was the first phase, with the business moving away from the name "Performance Line Bearings" to "The eBike Motor Centre".
eCommerce website & product migration
The design of the eCommerce website had 3 phrases; from initial concepts that were developed further following client feedback, followed by the set up of demo site where we then migrated products from the clients existing store to final phase of testing.
Create a bespoke design
Custom content blocks in WordPress
Set up WooCommerce
Migrate product data from the old website and upload to the new website
Integrate STRIPE payment gateway
Customise the checkout page to include shipping notice
Provide hosting on a dedicated server
Video guides provided showing how to update product pages
What we did…
eCommerce website
Brand identity
Raised company profile
Generated sales
The team at Giraffe met every criteria and expectation we had, presenting a smart, intuitive and beautifully laid out site that actually works!

Our customer feedback has been excellent, but above all, our sales have exceeded expectations.

Peter Collard – MD
SEO Benefits for eCommerce
Increased User Stats since website was launched
43%
Users increased by
8777
Monthly page views
100%
SEO score