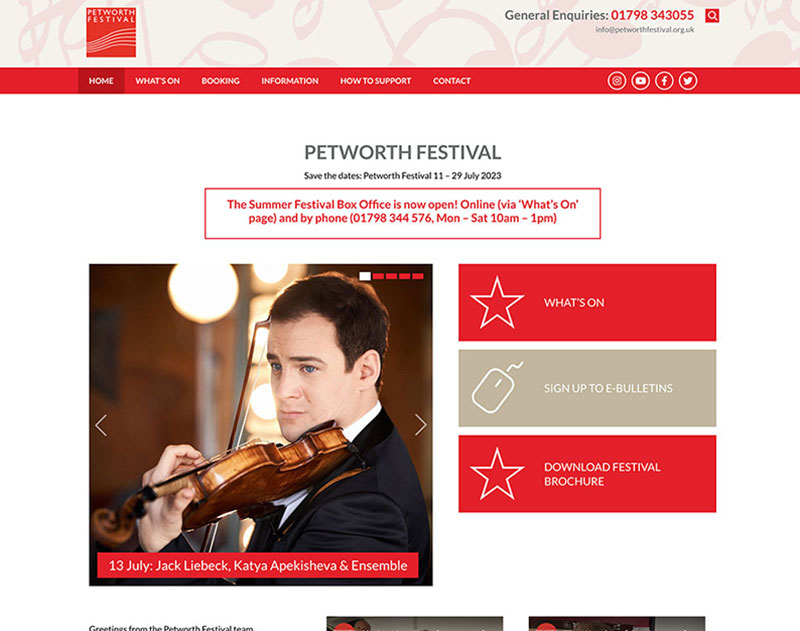 Event Ticketing Integration & new Website
The Petworth Festival website was in need of migrating over to WordPress and the brief was to build a new website and integrate events from their ticketing CRM platform.
Identity Challenges the business was facing
The Festival was duplicating many processes, by adding events to both the ticketing portal and also to the incumbent website, so they were spending more time than necessary managing events for the festival.
New Website and API Script
The solution was twofold; phase one was to build the website in WordPress and migrate all content over to the new platform.
Phase two was to build a bespoke API script that allowed event data to be pulled in from TicketSolve CRM, this then provided information on the website for all events.
Migrate old WordPress site content to new website
Custom content blocks in WordPress
Integrate Events from third party CRM system
API Integration
Option to manually override Events
Secure Hosting with Back Ups
Ongoing Support provided
What we did…
Event Management
Streamline Processes
Bespoke WordPress theme
Migrate content
SEO Optimised
Stewart helped us to design and implement a new website and has given prompt and efficient service at all times as the site has evolved. Stewart is a pleasure to work with and provides value for money for all his work which includes hosting, support, development, site visits training and updates.

Kate Lavender – Festival Manager