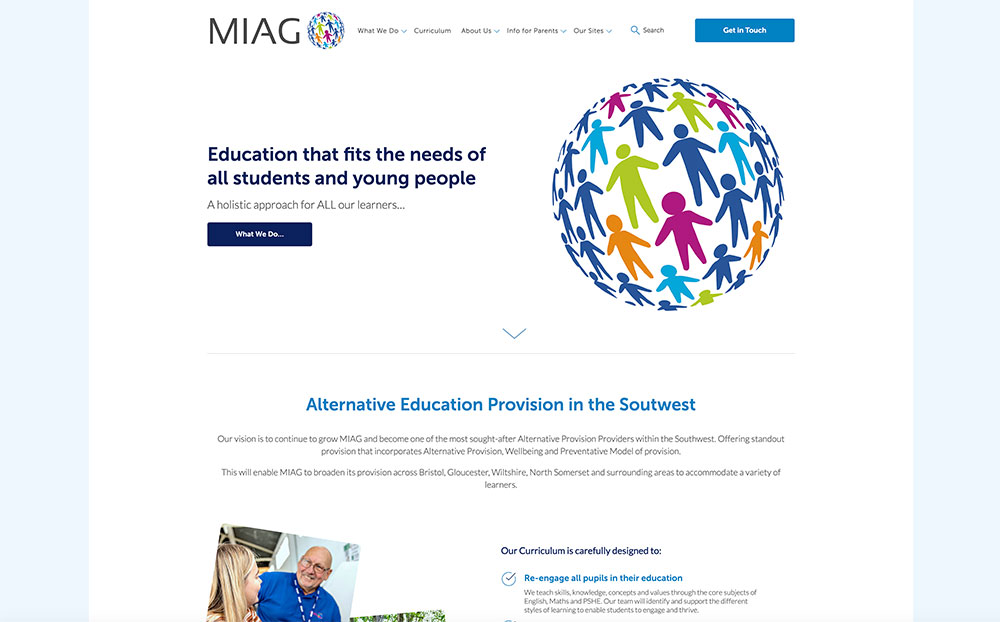 MIAG – Eductional Provision
Website & Content Creation
MIAG provides Alternative Education for students, families and schools and has grown into a business that operates from 5 locations across Bristol, Gloucester and North Somerset.
However their website was not reflecting the business very well, information was limited and imagery was poor quality.
The project brief was to transform the website to one that is informative, professional and engages better with parents as well as educational partners and schools.
The scope of work included initial planning, content creation, overseeing the photoshoot and liaising with senior managers at MIAG to ensure content was written to be concise and informative.
The Giraffe team gained a big insight into the dedication of staff and how they transform learning outcomes for students during the photoshoot, which provided a library of images for MIAG to use both on the website and future promotional material.
MIAG were also looking to re-structure their email setup and our IT partner Phil Manley at Compufix managed the migration of email from Google to Microsoft 365.
The project also included the design of a brochure to help promote the range of provision available.
Bespoke design
Custom content blocks in WordPress
Create content
Organise photoshoot
Secure hosting & ongoing support
In-house training for site users
What we did…
New website
Write content
Photoshoot
Hosting
Email Migration