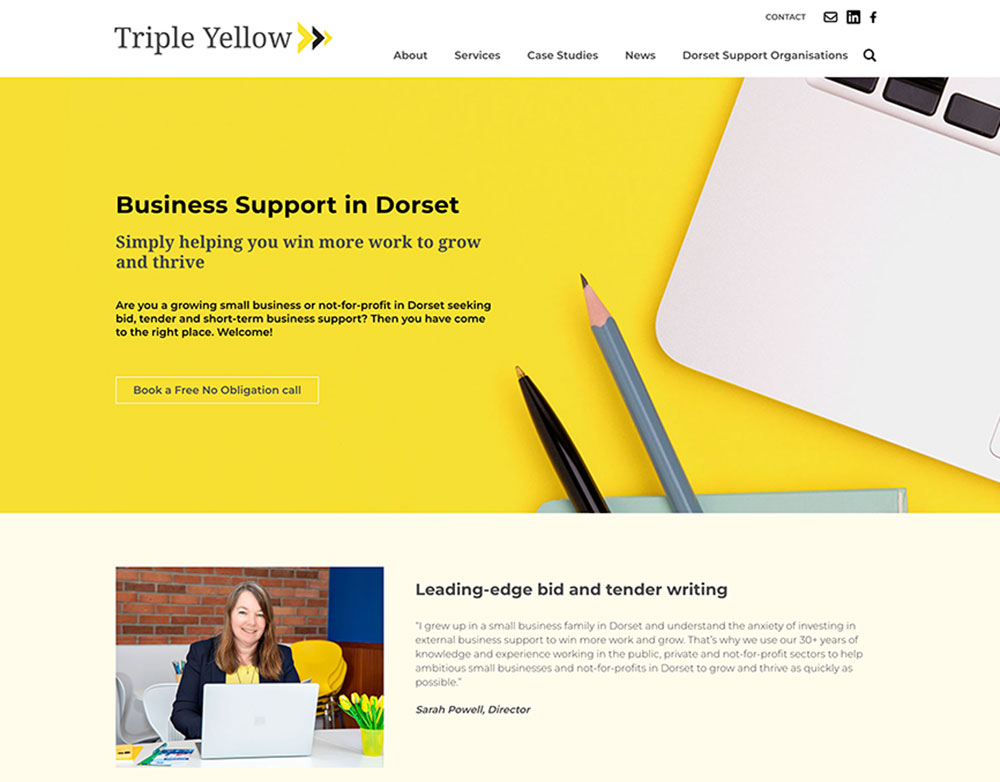 Website and Brand Creation
Triple Yellow provides bid writing services for businesses across Dorset and their online presence was fairly basic and didn't align with the high standards of service they provide.
The first phase of the project was to design a new brand identity, which then formed the basis of the new website and all future online promotional activities.
The second phase was the website design and build, a photoshoot was organised to provide a library of good quality photos of Sarah (The Business Owner and driving force behind Triple Yellow), and these resulted in a website with a personal angle to make more engaging and highlights Sarah's role in the business.
Bespoke WordPress theme
Brand identity
Source images / organise photoshoot
Once the website was launched additional SEO Optimisation was necessary to improve page load times for mobile devices.
SEO Optimisation included:
Improve page load speed times
Removed external fonts from CSS
Minified and concataged JS and CSS
Added htaccess file cache policy
Removed reCaptcha (Google) replaced with hCaptcha (GDPR compliant)
What we did…
Design new logo
Bespoke website
Organise photoshoot
SEO optimised
SEO Benefits for eCommerce
Increased User Stats since website was launched
43%
Users increased by
1300
Monthly page views
96%
SEO Score increased from 45%!